At Least 25 People Reported Dead in Texas Church Shooting – Gunman Killed by Police
Report: Man Opened Fire on Congregates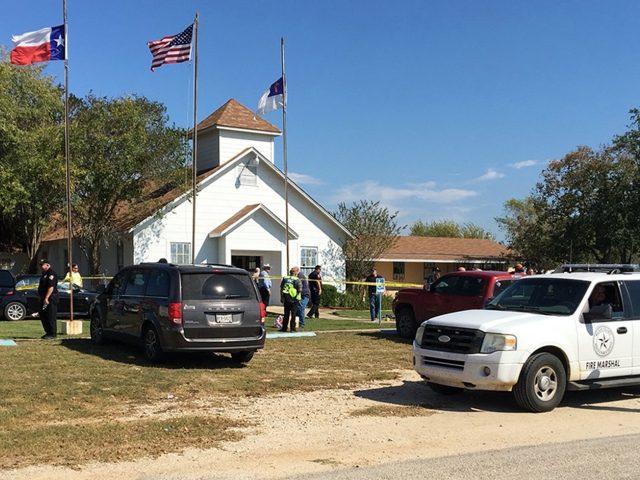 Photo: KSAT via AP
A mass casualty shooting near San Antonio, Texas, left at least 25 people dead and dozens injured. Reports from Sutherland Springs, Texas, indicate that multiple people have been taken to area hospitals. The gunman is reported to be dead.
Update 2:30 p.m.: KENS5 reports that children are among the wounded at the church shooting. One of the children is reported to have been a two-year-old.
Update 2:23 p.m.: Wilson County confirmed that as many as 25 people have been killed after a gunman walked into a Texas Baptist church and opened fire, the San Antonio Express-News reported.
Update 2:15 p.m.: Texas Governor Greg Abbott sends the following message of condolence to those killed and wounded in the Sutherland Springs shooting:
While the details of this horrific act are still under investigation, Cecilia and I want to send our sincerest thoughts and prayers to all those who have been affected by this evil act. I want to thank law enforcement for their response and ask that all Texans pray for the Sutherland Springs community during this time of mourning and loss.
Attorney General Ken Paxton also responded, stating:
"The thoughts and prayers of all Texans are with the people of Sutherland Springs as tragic reports come out of First Baptist Church. My office stands ready to assist local law enforcement as needed. Please join Angela and me as we pray for those impacted by this horrific shooting."
Update 2:02 p.m.: A twitter user, @yolowaccordsmom, wasted no time in politicizing the shooting. She tweeted, "Trump probably praying its a Mexican a5 #sutherlandsprings to justify his wall bullshit. Sorry, its [sic] a crazy white guy with a gun."