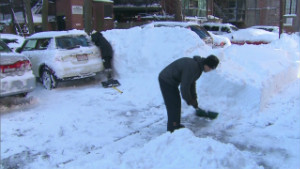 Keeping healthy in cold weather
The biggest threat of heavy snow lies in parts of Kansas, Nebraska and Missouri, with the possibility of whiteout conditions in some places, he said.
(CNN) -- When she was very young, Kayla Avery was used to playing in the snow. But the former Boston resident hadn't seen much of the white stuff since she moved to Arizona more than a decade ago.
She got a reminder Wednesday.
"We received a blizzard warning last night through the emergency broadcasting system. Most of us didn't believe it," she told CNN iReport. "Most of the news reports said it probably wouldn't snow in the valley, and two hours later it was snowing."
Avery, a 19-year-old student at the University of Arizona, said the snow was still falling Wednesday afternoon.
"My brother and I were staring out the window saying, 'What? It's snowing in Tucson? That's not supposed to happen!' " she said, adding that she's never seen this much snow in the area since her family moved there. Usually the area gets no more than a dusting of snow once a year.
The inch of snow also caused PGA Tour officials to postpone play at the World Golf Championships-Accenture Match Play Championship in nearby Marana, Arizona.
The rare accumulation was all part of a massive winter storm that promises to blanket a huge swath of the nation in crazy weather, from 18 inches of snow or more in Kansas to thunderstorms and flooding along the Gulf Coast.
Trouble for the next three days
In all, about 800,000 square miles in 18 states were under some form of watch or warning Wednesday related to a major storm pouring out of California and into the Central Plains and the Midwest, CNN meteorologist Brandon Miller said.
About 30 million people live in the covered areas, he said.
One of the places that could be hit the hardest is Springfield, Missouri. Among the hazards expected there Wednesday: lightning, wind and ice, with a little snow and sleet thrown on top for good measure.
http://www.cnn.com/2013/02/20/us/weather/index.html?iid=article_sid...
Check out the member blogs, videos, and discussions http://12160.info/