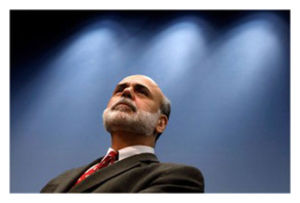 Ben Bernanke (pictured to the LEFT), Alan Greenspan, and various other bankers vehemently opposed the audit and lied to Congress about the effects an audit would have on markets. Nevertheless, the results of the first audit in the Federal Reserve's nearly 100 year history were posted on Senator Sander's webpage earlier this morning.
What was revealed in the audit was startling:
$16,000,000,000,000.00 had been secretly given out to US banks and corporations and foreign banks everywhere from France to Scotland. From the period between December 2007 and June 2010, the Federal Reserve had secretly bailed out many of the world's banks, corporations, and governments. The Federal Reserve likes to refer to these secret bailouts as an all-inclusive loan program, but virtually none of the money has been returned and it was loaned out at 0% interest. Why the Federal Reserve had never been public about this or even informed the United States Congress about the $16 trillion dollar bailout is obvious – the American public would have been outraged to find out that the Federal Reserve bailed out foreign banks while Americans were struggling to find jobs.
The list of institutions that received the most money from the Federal Reserve can be found on page 131of the GAO Audit and are as follows..
Citigroup: $2.5 trillion ($2,500,000,000,000)
Morgan Stanley: $2.04 trillion ($2,040,000,000,000)
Merrill Lynch: $1.949 trillion ($1,949,000,000,000)
Bank of America: $1.344 trillion ($1,344,000,000,000)
Barclays PLC (United Kingdom): $868 billion ($868,000,000,000)
Bear Sterns: $853 billion ($853,000,000,000)
Goldman Sachs: $814 billion ($814,000,000,000)
Royal Bank of Scotland (UK): $541 billion ($541,000,000,000)
JP Morgan Chase: $391 billion ($391,000,000,000)
Deutsche Bank (Germany): $354 billion ($354,000,000,000)
UBS (Switzerland): $287 billion ($287,000,000,000)
Credit Suisse (Switzerland): $262 billion ($262,000,000,000)
Lehman Brothers: $183 billion ($183,000,000,000)
Bank of Scotland (United Kingdom): $181 billion ($181,000,000,000)
BNP Paribas (France): $175 billion ($175,000,000,000)
View the 266-page GAO audit of the Federal Reserve (July 21st, 2011):
Federal Reserve Chairman Ben S. Bernanke participated in a live webcast of a town hall meeting with educators on Thursday, September 30, 2010 from 2:30-3:30 p.m. EDT. During this session, Chairman Bernanke answered teachers' questions about the Federal Reserve and the economy.