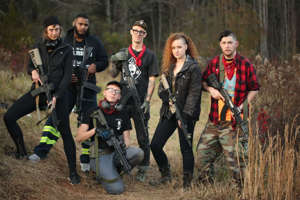 © ABC News/John MeesThe Silver Valley chapter of Redneck Revolt in North Carolina is one of more than 30 nation-wide. As the sun sets over rural North Carolina, Dwayne Dixon peers through black-rimmed glasses down the barrel of an AK-47.
Abandoned cars and rusted-out trailers dot the overgrown property; cows graze in a nearby paddock under the gathering shadow of pine-clad hills.
Softly-spoken and slight of build, Mr Dixon is a vegan who spends his days lecturing in anthropology at a local university.
Today he's preparing for the moment he may raise a deadly weapon on the streets of a US city.
"Guns are a tool," he says between bursts of crackling gunfire.
"You'd rather have it and not need it, than need it and not have it."
Half a dozen of his friends watch on.
Nearby on the grass lies a small arsenal of assault rifles, handguns and body armour.
Across the range, a paper target with the shape of a human torso printed in black ink is stapled to a makeshift wooden frame. An X marks the bullseye.
His finger settles on the trigger. Shots ring out across the valley.
The rise of Antifa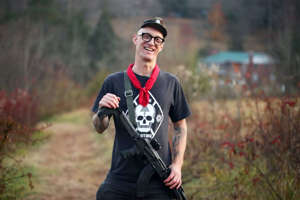 © ABC News/John MeesDwayne Dixon, a member Redneck Revolt, says he's not "willing to abdicate" the responsibility for his security to the state. Mr Dixon, 45, is a member of the far-left group Redneck Revolt, whose chapters have multiplied in the past year from just a handful to over 30 across the United States, they claim.
Their ranks are swelling in response to a resurgence of white supremacist groups, in part emboldened by President Donald Trump's election victory.
Redneck Revolt is part of the rapidly-growing "Antifa" movement - short for anti-fascists.
Many are wary about showing their faces in public or talking to the media, for fear of a backlash from the police, the far right and even their own families.
After lengthy persuasion, the Silver Valley chapter of Redneck Revolt in North Carolina allowed Foreign Correspondent rare access to their world of guns, resistance and camaraderie.
"We want our story told because it's ordinary people standing up against fascism, facing down fear, and attempting to reshape our small corner of the world into a space of egalitarianism and shared efforts for our needs and desires," Mr Dixon says.
He is articulate, friendly and disarming, even when holding an assault rifle.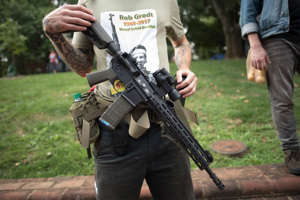 © ABC News/Supplied: Abdul AzizDwayne Dixon says a willingness to use firearms is a wise deterrent against white terrorist violence. For the past decade he has lived in Durham, an urban, progressive bubble in the conservative south.
He speaks with a sense of urgency, especially when on the subject of white supremacists and the activities of the far right.
"These are people with clearly stated intentions to carry out violence against people of colour, against queer folks, against women," he says.
"They're not just speaking - they're marching. They're marching in a way that's intimidating, as we all know is harking back to the torch light rallies of the Nazi era."
While the term "redneck" is often derogatory - a stereotype of poor, uneducated, racist whites - the group wants to reclaim the mantle.
Mr Dixon wants to instil honour in the word as a tribute to America's working class; people who, they say, may not realise they are being hurt by big business and government.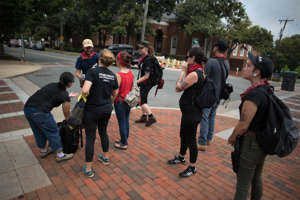 © ABC News/Supplied: Abdul AzizRedneck Revolt's signature item is a red bandana. Redneck Revolt's signature item is a red bandana, the same cloth worn by coal miners in West Virginia during an uprising against mining companies and the state in 1921.
Members say the group has a broad agenda: to help communities take care of themselves and reclaim the freedoms they believe are being eroded by the state and corporate America.
They have food-sharing programs and do first aid training, but their most striking feature is their readiness to bear arms.
"I think for us having access to weapons and having the skill and competency with them . allows us to at least consider that among a diversity of possible tactics," Mr Dixon says.
"It doesn't mean that they're going to be used all the time, but recognising the moment we're in, when real white terrorist violence is a fact of American life.
"I wish we didn't have them, didn't need them, but I think a wise deterrent is not something to scorn.
"None of us think about firearms in a cavalier way," Mr Dixon insists, before heading back to the firing line to help his friends reload their guns.
A watershed moment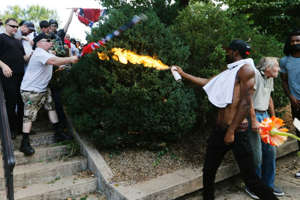 © AP Photo/Steve HelberA counter-demonstrator uses a lighted spray can against a white nationalist demonstrator at the entrance to Lee Park in Charlottesville, Virginia. It was the violence at a white nationalist Unite the Right event in Charlottesville, Virginia, last August that galvanised many anti-fascist groups, including Redneck Revolt.
After hours of clashes, a car ploughed into a group of leftist protesters, killing one woman and injuring scores. The alleged driver was an avowed white nationalist.
Police failed to intervene to stop the clashes and were later pilloried for their inaction.
In the days that followed, the "alt-left" was thrust into the global spotlight by Mr Trump's denunciation of "both sides" in the Charlottesville tragedy.
Among the Antifa ranks were "bad dudes", the President said, who used violence in the same fashion as those promoting neo-Nazi and white nationalist ideologies.
Redneck Revolt had their guns in Charlottesville but never fired them.
Even so, their weapons drew shock and in some cases, disgust, from many on their own side.
"We knew we were being intensely scrutinised," Mr Dixon says.
https://tetrasys.fi:10443/in/nyt/1096~151~1282546/Redneck-Revolt-an...