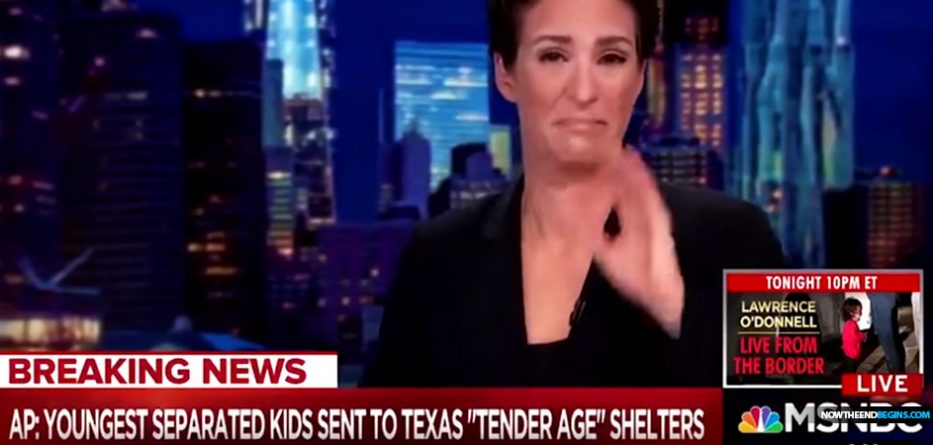 THE FAKE NEWS MEDIA AND POLITICAL CLASS BECOME MORE AND MORE OUTRAGED OVER THE TRUMP ADMINISTRATION'S DECISION TO DETAIN AND PROSECUTE IMMIGRANTS ILLEGALLY CROSSING THE BORDER.
EDITOR'S NOTE: Poor Rachel Maddow, she was so 'overcome with emotion' last night as she tried in vain to say the words 'tender age detention centers', that she fake cried her way out of her spot and handed it off to her colleague. But flashback to 2014 when over 100,000 children were placed in Obama's child detention centers, and NO ONE in all of fake news lands was even the least bit outraged. No one called Obama out, no one demanded the policies change, and no one thought what was being done was a bad thing. So President Trump in 2018, who is simply carrying out the established policy of the Obama administration to deal with illegal immigrant children detainees, is immediatly cast as a person more evil than Hitler. The mainstream media is not only fake news, it is deliberately false information tied to a Marxist agenda whose only purpose is to deceive and mislead the viewers, with the goal of fomenting class warfare and creating division. America under this tyranny is much more divided as a nation than we were during even the Civil War. In fact, this is a civil war, declared by the fake news media upon the American people. 
http://www.investmentwatchblog.com/the-paid-liars-of-fake-news-impl...