You've heard how the Earth is rapidly heating up . . . causing drought, famine, and mayhem.

For sure, Al Gore and the media encourage you to jump on the global warming bandwagon every time there is a heat wave or when a photo of a lone polar bear floating on an iceberg emerges.

But how much has the world really warmed?

It's an important question, considering the U.S. government spends $22 billion a year to fight the global warming crisis (twice as much as it spends protecting our border).

To put that in perspective, that is $41,856 every minute going to global warming initiatives. But, according to Forbes columnist Larry Bell, the ripple effect of global warming initiatives actually costs Americans $1.75 trillion . . . every year.

So, has anyone stopped to ask . . . how much has the globe actually warmed?

Well, we asked, and what we found was striking.

According to NASA's own data via Remote Sensing Systems (RSS), the world has warmed a mere .36 degrees Fahrenheit over the last 35 years (they started measuring the data in 1979).

Hardly anything to panic about; however, that does mean the world is warmer, right?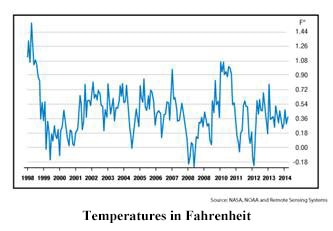 The problem with that argument is that we experienced the bulk of that warming between 1979 and 1998 . . . since then, we've actually had temperatures DROPPING!

As can be seen in this chart, we haven't seen any global warming for 17 years.

Weakening the global warming argument is data showing that the North Polar ice cap is increasing in size. Recent satellite images from NASA actually reflect an increase of 43% to 63%.