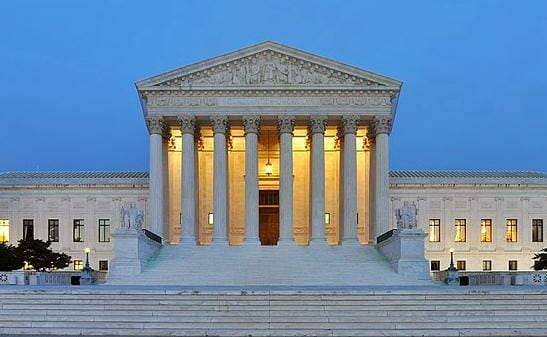 Wiki
The Supreme Court declined to hear a dispute over whether it is constitutional to count absentee ballots that were received up to three days after Election Day. In a 6-3 split decision, the Court dismissed the lawsuit, claiming it was "moot" now that the 2020 presidential election is over. Justice Clarence Thomas wrote, "One wonders what this Court waits for. We failed to settle this dispute before the election, and thus provide clear rules. Now we again fail to provide clear rules for future elections." He added, "The decision to leave election law hidden beneath a shroud of doubt is baffling. By doing nothing, we invite further confusion and erosion of voter confidence. Our fellow citizens deserve better and expect more of us. I respectfully dissent." President Trump's Supreme Court picks, Brett Kavanaugh and Amy Coney Barrett, voted with the liberal wing of the Court not to the hear the lawsuit. -GEG
The Supreme Court on Monday declined to hear a dispute over whether absentee ballots received up to three days after Election Day in Pennsylvania was constitutional.
The Court dismissed in a 6-3 split decision the lawsuit – with conservative Justices Neil Gorsuch, Clarence Thomas, and Samuel Alito dissenting – against the Pennsylvania state court decision over the extended mail-in ballot deadline, claiming it was "moot" now that the 2020 presidential election is over.
Justices Thomas and Alito issued scathing dissents over the Court's decision not to settle the dispute about mail-in ballots, especially to avoid more allegations of fraud in future elections.
"One wonders what this Court waits for. We failed to settle this dispute before the election, and thus provide clear rules. Now we again fail to provide clear rules for future elections," Thomas wrote.
"The decision to leave election law hidden beneath a shroud of doubt is baffling. By doing nothing, we invite further confusion and erosion of voter confidence. Our fellow citizens deserve better and expect more of us. I respectfully dissent."
Thomas blasted Pennsylvania Democrat officials exercising powers they don't have and warned that unless these unconstitutional practices are addressed, they will likely continue in future elections.
https://needtoknow.news/2021/02/us-justice-thomas-issues-scathing-d...