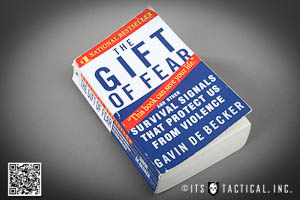 I've recently finished reading a book by Gavin De Becker called The Gift of Fear. While book reviews are something we don't often cover on ITS, this is a book that I not only feel each of you should read immediately, but that every member of your family should read as well.
This is hands down, one of the best books I've ever read and the most applicable to any of the skill-sets we advocate here on ITS. Primarily, what we all encounter on a daily basis, fear of the unknown.
De Becker describes this fear of the unknown as unwarranted and a curse, while advocating true fear as a gift. This book explains how to tell the difference between the two and teaches us how to trust and act on our gut instincts. This book could truly save your life!
Gavin De Becker
I'd like to take a paragraph to introduce De Becker and what makes him an authority on the subject at hand, because like you, I was skeptical until I started reading the book, which has become a bible for me personally.
"Gavin De Becker is a three-time presidential appointee whose pioneering work has changed the way our government evaluates threats to our nation's highest officials. His firm advises many of the world's most prominent media figures, corporations and law enforcement agencies on predicting violence and it also serves regular citizens who are victims of domestic abuse and stalking.
De Becker has advised the prosecution on major cases, including the O.J. Simpson murder trial. He has testified before many legislative bodies and has successfully proposed new laws to help manage violence."
His biography might read well, but I'm here to tell you that this doesn't even scratch the surface of what information he brings to the public with The Gift of Fear or what his organization, Gavin De Becker, Inc., has done to help through their vast resources and organizations they support.
The Gift of Fear
Around two years ago I wrote an article titled Dealing With Violent Confrontations and have even recently shared my experience with a fear inducing incident of my own. What I have always and will always advocate, is trusting your gut (i.e. listening to your instinct.)
I picked The Gift of Fear up after the recent incident I mentioned, because I wanted to learn more about what I experienced and how I handled the situation. While I had a lot of supportive comments and people sharing stories of their own fear inducing experiences, there were also many that wrote it off as nothing more than American paranoia.
Through reading The Gift of Fear, I've found an authoritative voice stating that I did exactly what I should have in that incident. Put manners aside, quieted my mind and listened to my instinct. While it's hard to address feelings and emotions, let alone instinct, in the article I described my response to an unidentified man who quickly and feverishly approached my personal space. I'll let you read the article for yourself if you haven't yet.
Continue: http://www.itstactical.com/intellicom/mindset/the-gift-of-fear-and-...