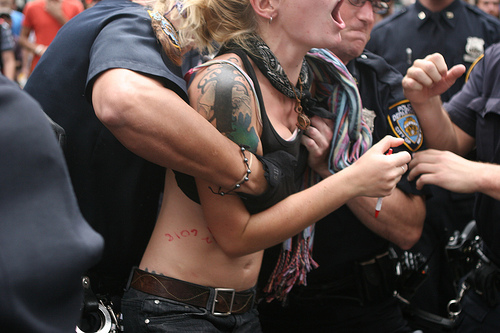 A week since the occupation started, the protests on Wall Street are only growing stronger. Several thousands marched today. The authorities went apeshit.
#OCCUPYWALLSTREET keeps on growing. Today marked the largest protest since the start of the movement, exactly a week ago. Signs are mounting that the authorities are starting to get increasingly anxious about the potential of the protests to spin "out of control" and go viral.
And so today, just days after Mayor Bloomberg assured protesters they would be "free to express their opinion", the NYPD went into Mubarak mode, attacking peaceful protesters and making mass arrests of law-abiding citizens for the sole purpose of repressing political dissent. Undoubtedly, as happened in Barcelona before, the police repression will only further reinvigorate the protests.