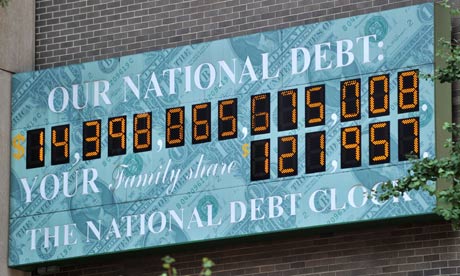 The U.S. government has stolen $15,876,457,645,132.66 from future generations of Americans, and we continue to add well over a hundred million dollars to that total every single day. The 15 trillion dollar binge that we have been on over the past 30 years has fueled the greatest standard of living the world has ever seen, but this wonderful prosperity that we have been enjoying has been a lie.  It isn't real.
We have been living way above our means for so long that we do not have any idea of what "normal" actually is anymore.  But every debt addict hits "the wall" eventually, and the same thing is going to happen to us as a nation.  At some point the weight of our national debt is going to cause our financial system to implode, and every American will feel the pain of that collapse.  Under our current system, there is no mathematical way that this debt can ever be paid back.  The road that we are on will either lead to default or to hyperinflation.  We have piled up the biggest debt in the history of the world, and if there are future generations of Americans they will look back and curse us for what we did to them.  We like to think of ourselves as much wiser than previous generations of Americans, but the truth is that we have been so foolish that it is hard to put it into words.
Whenever I do an article about the national debt, Democrats leave comments blaming the Republicans and Republicans leave comments blaming the Democrats.
Well you know what?
Both parties are to blame.  Both of them get a failing grade.
If the Republicans really wanted to stop the federal government from running up all this debt they could have done it.
If the Democrats really wanted to stop the federal government from running up all this debt they could have done it.
So let's not pretend that one of the political parties is "the hero" in this little drama.
The damage has been done, and both parties will go down in history as being grossly negligent on fiscal issues during this period of American history.
Sadly, neither party is showing any signs of changing their ways.
Neither Barack Obama nor Mitt Romney is promising to eliminate the federal budget deficit in 2013.  They both talk about how the budget will be balanced "someday", but as we have seen so many times in the past, "someday" never comes.
I didn't mean to get all political in this article, but the truth is that the national debt threatens to destroy everything that previous generations have built, and our politicians continue to give us nothing but excuses.
The following are 27 things that every American should know about the national debt….
Continue reading: http://www.blacklistednews.com/27_Things_That_Every_American_Should...