Breaking news from Bulgaria -- the government has resigned following weeks of protest against its austerity programme.
Prime minister Boiko Borisov announced the dramatic development in parliament this morning, following violent clashes between police and demonstrators last night which resulted in 25 people being taken to hospital.
Borisov told MPs:
I will not participate in a government under which police are beating people.
That was the latest in a series of large protests against the country's tough fiscal policies, which have led to high unemployment and slowing growth. Bulgarians are also furious over steep energy prices, which many people say are simply unaffordable.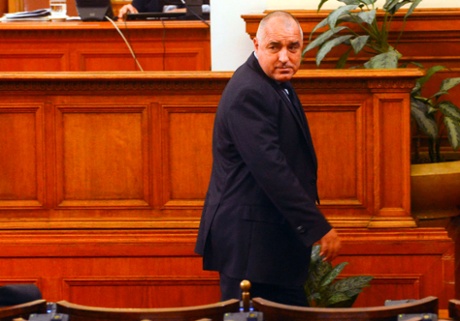 I'm off. Bulgaria's prime minister, Boiko Borisov, walks away after his speech in the parliament in Sofia this morning. Photograph: Reuters
Borisov fired his unpopular finance minister, Simeon Djankov, on Monday, but that wasn't enough to calm the storm in Bulgaria.
Djankov's policies had cut Bulgaria's deficit and helped keep the country's currency pegged to the euro (which it plans to join one day).
But the population found the cost too high to bear, and it appears that last night's violence pushed Borisov into resigning.