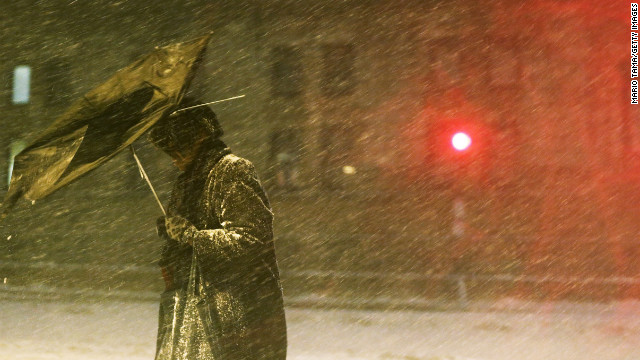 CNN) -- The snowstorm is heading out to sea. It has left one man dead in its wake so far and taken electricity from over 650,000 customers in the Northeast.
And it dumped about two feet of snow across New England and Long Island, the National Weather Service said in a bulletin early Saturday.
Connecticut saw the most accumulation with over 20 inches in many places, the NWS said, but the nor'easter has beaten up Massachusetts with winds howling at 60 to 75 mph. It knocked out power to over 400,000 addresses there, accounting for nearly two thirds of all power outages, according to the state's power companies.
Electricity dropped out at a nuclear power plant in Plymouth, Massachusetts, said fire spokesman Ed Bradley, but backup generators sprang into action. It's not an emergency, he said. Plymouth is 90% in the dark.
Rhode Island may have seen the worst outages relative to its size, with over 180,000 customers losing power. At one million residents, it has only one sixth of Massachusetts' population, according to the U.S. Census Bureau.
http://www.cnn.com/2013/02/09/us/northeast-blizzard/index.html
Updated at 6:50 a.m. ET: A major storm dumped nearly three feet of snow and brought blizzard conditions to parts of the Northeast Saturday, with winds gusting to hurricane strength.
The National Weather Service also warned there was more to come and said that some areas could be hit by coastal flooding due to a storm surge.
At least two people died amid dozens of snow-related car accidents.
http://usnews.nbcnews.com/_news/2013/02/09/16908958-monster-storm-dumps-more-than-two-feet-of-snow-on-northeast?lite