BREAKING: White House releases Obama's birth certificate
(CNN) – President Obama released his original birth certificate Wednesday, saying the controversy surrounding the issue had become a "sideshow."
The surprise release follows recent and sustained remarks by businessman Donald Trump, among others, that raised doubts as to whether the president was born in the United States.
"Over the last two and half years, I have watched with amusement. I have been puzzled with the degree with which this thing just kept going," Obama told reporters Wednesday.
"We are not going to be able to solve are problems if we get distracted by side shows." he added.
Obama's birth certificate [PDF]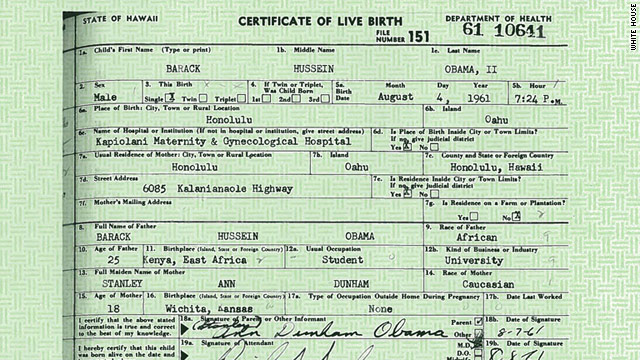 [TLS]- The first thing I notice is that this is a photo copy not an original, you can tell on the left side from the shadow, it looks like the source was bound in some form of a book.  Follow the top of the page from the left top to the right edge and notice how the thin line is blended in with the background. Looks like they just used green thatch paper to print it on to? Sadly enough this is not the original. I don't know enough about 1961 certs in HW to make a guess if the source that was photocopied is legit or not. It very well could be legit, the issue now becomes as trump said, his background. Like how if he was a bad student and got into Columbia then Harvard Law. With what I've heard in the last two days on the Alex Jones show with Wayne Madson, Obama voided his US citizenship early in his life when he went to live in Indonesia as well as evidence he was working as an Intelligence operative like his parents.  This really changes little even if the above document is confirmed.
Paul Joseph Watson | If you thought the birther controversy was finished, you ain't seen nothing yet.
Kurt Nimmo | White House releases purported certificate as political pressure mounts to come clean on citizenship.