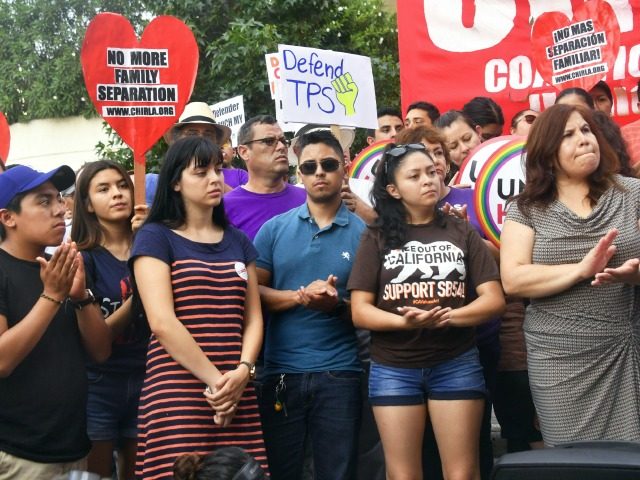 FREDERIC J. BROWN/AFP/Getty Images
Media outlets are touting polls which supposedly show public support for the DACA amnesty — but careful polls show the public overwhelmingly prefers immigration policies which help their fellow Americans find good jobs.
The pro-DACA polls ask Americans "'Do you want to be nice to people?' and most Americans do want to be nice to people," said Roy Beck, founder of NumbersUSA, an immigration reform group, whose polls ask Americans to rank their often-contradictory views. He said:
We basically ask people to establish priorities. All public policy is about priorities. You can give people a list of 100 good things to do but you've got to have a priority. Our polls ask 'Which is more important: Make sure that jobless Americans get the next jobs or continue to bring in high level of immigrants?
These priority polls show roughly seven-to-one public support for Donald Trump's argument that immigration reforms should aid American employees first, before aiding companies or foreign migrants. 
"What people generally want is some kind of assurance that we're not going to end up with another 10 million illegal aliens down the road — that's why there is a lot of support for amnestying illegal immigrants as long as it is the last amnesty," said Mark Krikorian, the director of the Center for Immigration Studies.
If Trump ties his expected rollback of DACA to a legislative deal which gains congressional approval for enforcement and reform in exchange for a future amnesty, he will have "a politically attractive package that is also good policy," said Krikorian. Already, Trump's merit immigration proposal is getting good reviews from the public. 
However, the pro-immigration, pro-business, pro-DACA "nation of immigrants" polls dominate the media coverage of the immigration debate.
For example, an NBC poll described the 800,000 illegal aliens in DACA as "children" — even though their average age is roughly 25
http://www.breitbart.com/big-government/2017/09/02/daca-polls-conce...