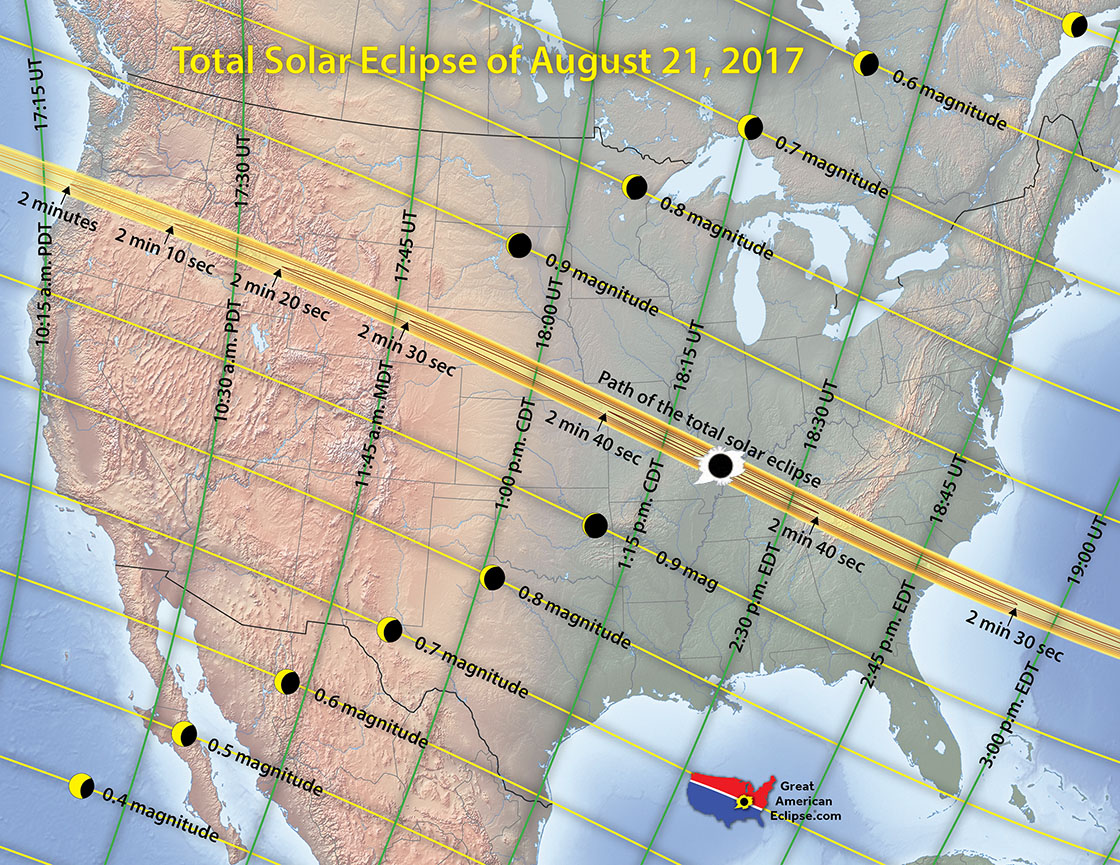 Everyone in the continental United States will have a solar eclipse on August 21, 2017. But only those within the roughly 70-mile-wide path of totality will have a shot at the most awesome celestial event one can experience: a total solar eclipse. Outside the path, observers will witness at best a deep partial eclipse, which is nowhere near as exciting. Yellow lines parallel to the path indicate the fraction of the Sun's diameter that will be covered by the Moon (the eclipse magnitude) along those lines. Green lines roughly perpendicular to the path indicate times of maximum eclipse. Brown lines within the path indicate the duration of totality. Courtesy Michael Zeiler, GreatAmericanEclipse.com.
And here are some words, though far less than 1,000 of them:
When
Obviously the solar eclipse of August 21, 2017, occurs on August 21, 2017! That's a Monday — in many places, the first day of the new school year.
It takes about 90 minutes for the Moon's dark shadow to cross the country, starting around 10:15 am Pacific time on the West Coast and ending around 2:45 pm Eastern time (11:45 am Pacific time) on the East Coast. When you hear someone say, "the total eclipse lasts 90 minutes," that's what they mean. But that could be misleading: At any given location within the path of the Moon's shadow, the total eclipse lasts at most 2 minutes 40 seconds — don't be late!
The Moon takes its first "bite" out of the Sun, marking the start of the partial eclipse, 1¼ to 1½ hours earlier, around 9:00 am PDT on the West Coast and 1:15 pm EDT on the East Coast. The Moon uncovers the last of the Sun's bright face 2½ to 3 hours after that, around 11:30 am PDT on the West Coast and 4:15 pm EDT on the East Coast. This marks the end of the partial eclipse.
Here's a table with times for a handful of U.S. cities and towns in the path of totality, courtesy of NASA: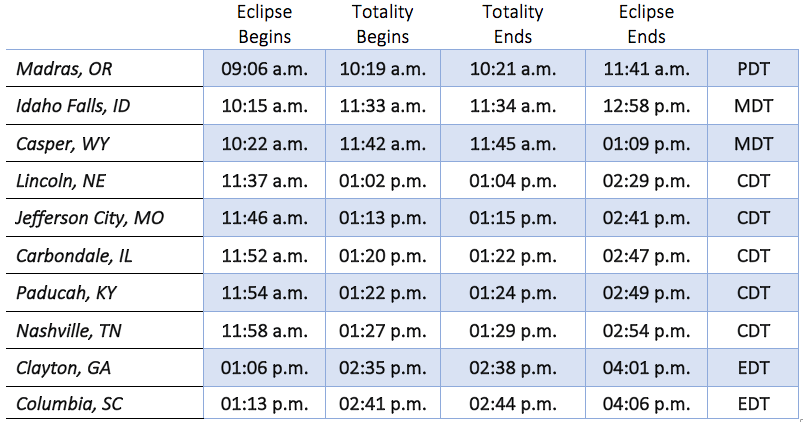 To find out when the eclipse occurs at any other location (and what it will look like from that location), visit TimeandDate.org or use any of the interactive Google maps and/or eclipse calculators on our Maps & Calculators page.